Wade signs sports and entertainment deal with WarnerMedia
---
NEW YORK — Retired NBA star Dwyane Wade is getting into the media business.
Wade will be a regular analyst for TNT's studio coverage of the NBA on Tuesday nights alongside former Miami Heat teammate Shaquille O'Neal and Candace Parker this season. His agreement with WarnerMedia also includes other projects covering sports, lifestyles and entertainment across the company's various platforms.
The three-time NBA champion will also help Turner Sports and CBS Sports cover college basketball's Final Four.
'Good Christian Bitches' High School Reboot From Jordon Nardino & Kapital Entertainment In Works At the CW
---
EXCLUSIVE: The CW is developing Good Christian Bitches, an hourlong series based on Kim Gatlin's book of the same name, which comes from Glamorous writer Jordon Nardino, Darren Star, and Aaron Kaplan's Kapital Entertainment.
Your Complete Guide to Pilots and Straight-to-Series orders
This is a brand new take on the concept, shifting the action to high school. Written by Nardino, it's described as Clueless set in a Christian high school in tone. At a prestigious private Christian high school in Dallas, a war stoking the student body's social divides erupts when the new girl on campus, the atheist daughter of a minister, inadvertently tangles with three popular girls who blame her for ruining their lives.
The CW
Nardino executive produces with Star and Kapital Entertainment's Aaron Kaplan and Dana Honor. CBS Television Studios produces in association with ABC Studios, whose participation stems from having produced the first Good Christian Bitches series adaptation.
Kaplan and Younger creator Star originally teamed up to turn Gatlin's bestselling "semi-autobiographical" novel into a TV show during the 2010-11 broadcast development season when the dramedy went to series at ABC via ABC Studios, titled GCB, on which Nardino was a writer-producer.
Years later, the CW president Mark Pedowitz shared with Kaplan his interest in the Good Christian Bitches IP. Kapital tracked down the book rights, re-teamed with Star and tapped a new writer for a new take on the material, which the CW put in development last season via CBS Studios/ABC Studios. The project, which followed the clergy and parishioners of a hip church plant in Austin, did not go to pilot, but the CW brass remain high on the title, rolling it to this season for redevelopment.
Also last season, Nardino created Glamorous, which went to pilot at the CW, produced by CBS TV Studios. The pilot was an internal favorite and strong contender for a series pickup, narrowly missing the cut. After Glamorous didn't go, Nardino expressed interest in tackling Good Christian Bitches, a property he knew well having worked on the ABC series adaptation. After meeting with Kaplan and the other producers, Nardino  came on board to write a new incarnation which, with its high-school setting, blends well with CW fare like Riverdale and All American.
GCB, which aired for one season, followed Amanda Vaughn (Leslie Bibb), former high-school "Queen Bitch", a recently widowed mother of two, who returns to her hometown of Highland Park, Texas, an enclave of Dallas.
Nardino's TV series credits also include Star Trek: Discovery, Quantico, Smash and Desperate Housewives. 
Forced Entertainment Return To Home Manchester With OUT OF ORDER
---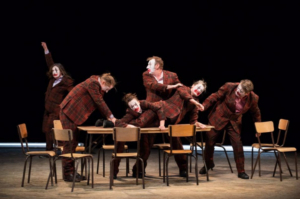 Sheffield's award-winning Forced Entertainment return to HOME following their debut at the Manchester arts centre in 2017 with Real Magic performing Out of Order, which plays for three performances, Wednesday 13 - Friday 15 November 2019.
A troupe of hapless clowns sit huddled round a table, waiting for trouble to start, like friends divided or deadlocked politicians. There are old gags that escalate and new ones that backfire. Music, sweat and bright lights. Blank faces, double takes and bright ideas. For a moment it might look like peace, but soon it's mayhem again.
Forced Entertainment's reputation has been built by creating a world of absurd disconnection, struggle and comical repetition, at the same time as challenging audiences' expectations of what is theatre. Driven by a heavy musical score, Out Of Order continues that tradition by teetering carelessly between funny and not funny at all, comical and absolutely tragic.
A kind of poetic State of the Nation rendered as clown act gone wrong, where we're at and where we're heading - Out of Order says it all without speaking.
Out of Order sees regular Forced Entertainment performers and founder members - Robin Arthur, Nicki Hobday, Jerry Killick, Richard Lowdon, Cathy Naden and Terry O'Connor - combine for what is the company's most physical performance ever. There is no spoken word in the piece and it features repetitive music and movement. It is challenging but also entertaining. homemcr.org/production/out-of-order Related Articles View More UK Regional Stories   Shows More Hot Stories For You