Fork out to pork out: Germany's 'schnitzel alert' echoes around Europe
---
The "schnitzel alert" sounded by German meat producers earlier this week has been echoed in other European countries, as wholesale pork prices rise by as much as 40%.
BVDF, the federal association of the German meat industry, warned consumers that price rises meant some of their favourite national specialities, such as schnitzel and bratwurst, were going to be more expensive over Christmas.
"Sausage is definitely more expensive," the association's president, Sarah Dhem, told German newspaper Bild.
Chorizo manufacturers in Spain are also worried about the rise.
"Yes, prices for raw materials have risen a huge amount," said a spokesperson at Loza, one of Spain's major producers. "They have gone up by 40% and all producers are deciding how to deal with this problem. But this is the busiest time of year for us, so I don't really have time to talk right now."
Even in Denmark, one of the world's foremost producers of pork – and the home of Danish Bacon – admits it may have a problem.
"We have also met higher prices from our suppliers," said a spokesperson for Salling Group, one of the country's largest retailers. "But we are trying to keep our prices towards customers as competitive as possible, not least during the Christmas season."
The price rises are due to the African swine fever crisis in China. The epidemic is expected to wipe out half of China's pig population by the end of the year, prompting frantic buying of world supplies by the country. In September, EU pork exports were up 75% on the same month last year. European prices have risen steeply, as have prices in Brazil, which has been making up some of the shortfall.
Related: 'Not enough pork in the world' to deal with China's demand for meat
In some European countries the problems caused by pork price rises are being compounded by outbreaks of African swine fever, which means that exports from certain zones are banned. In Poland, for example, the industry has described the high prices as "armageddon".
But not everyone has bad news. The Italian Parma ham consortium says that although, as elsewhere in Europe, prices for standard pork products have risen by about 40%, the specialist pigs that they use are not particularly popular in China. "Our pig is too expensive for them."
And in the UK prices have been higher than Europe for some time, so to some extent the continent is just catching up. "Price rises?" said Mark Thomas of Emmett's Ham, the oldest artisan ham and bacon producer in the UK. "We're just seeing the usual healthy sales that we always have at this time of year."
Additional reporting by Cecilia Ferrara
Trump's cold shoulder motivates Europe to challenge the dollar's dominance
---
It took the whirring sound of the helicopter blades on Marine One to reinvigorate Europe's determination to no longer be subservient to the U.S. dollar.
When President Trump took off early from the G-7 summit in Charlevoix, Canada, in June 2018, and abruptly withdrew from a common communique, he left European leaders first "speechless, then determined to work together," said Martin Selmayr, secretary-general of the European Commission under President Jean-Claude Juncker.
"Trump boarding the helicopter in Charlevoix triggered the idea of European sovereignty," said Selmayr. "Promoting the international role of the euro was one answer to that political moment."
Just months later, Juncker vowed to make the euro "play its full role on the international scene." The incoming commission looks eager to pick up the baton: Ursula von der Leyen, the new president, has included the goal of boosting the euro in letters to her team.
Since the start of the year, the commission has been quietly working to promote the use of the euro in cross-border invoicing, specifically for energy products. A clearinghouse has been created to circumvent U.S. threats to exclude from the dollar system the companies that trade with Iran. And the European Central Bank has been enlisted to communicate the economic consequences of greater euro use internationally.
As Europe looks warily to the growing competition its main industries face from China and the increasingly erratic leadership of its American ally, the role of the euro has become one of the centerpieces of a profound rethink taking place across the region about how it defends its own interests that include industrial policy and trade.
For European leaders, a more prominent euro is key to securing the region's financial and monetary autonomy and protecting it against U.S. attempts to weaponize the dollar through financial sanctions.
Josep Borrell, the high representative for foreign affairs, believes the project to boost the euro's status should be treated on a par with defense policy: "We should reinforce the euro's international role, and further, our military capacity to act. ... The EU has to learn to use the language of power," he recently told the European Parliament.
Europe's monetary inferiority complex goes back a long way. Half a century ago, Valéry Giscard d'Estaing, then French finance minister, lamented Washington's "exorbitant privilege" — the dollar's preeminence that put Europe at a commercial disadvantage and helped provide the Europeans' motivation on the long road to monetary union.
The same resentment resurfaced with the monetary chaos that Richard Nixon unleashed when he unilaterally dismantled the Bretton Woods fixed-exchange rate system by taking the dollar off its gold peg in 1971.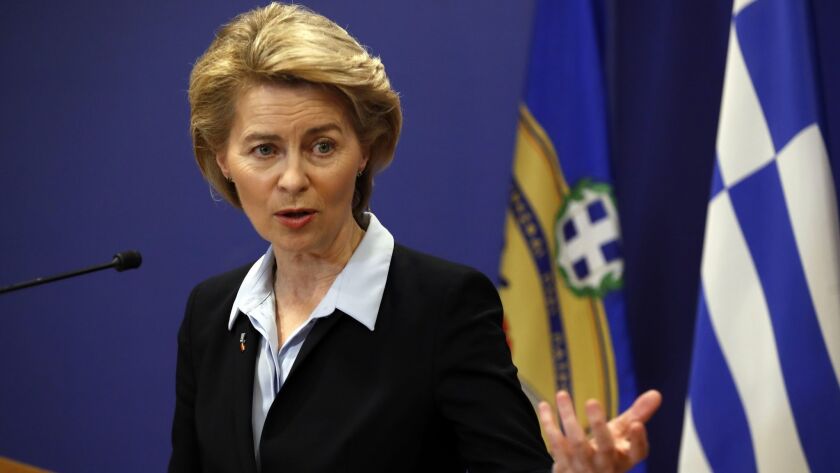 Ursula von der Leyen, the president of the European Commission, has instructed the energy commissioner to "look at ways to sharply increase the use of the euro in energy markets."
(Thanassis Stavrakis / Associated Press)
Charlevoix, said Selmayr, was a "second Nixon moment" for Europe. The snub at the G-7 followed other U.S. announcements that had made Europe fret at the dominance of the dollar. Trump's decision to pull out of the Iran nuclear deal in May 2018 highlighted how European companies remain dependent on dollar-denominated financial markets. Under the sanctions the Trump administration has reimposed, Europeans doing business with Tehran could face U.S. penalties.
The threat has effectively stopped European companies from trading with Iran and undermined the economic incentives at the heart of the nuclear deal.
In August 2018, Germany's foreign minister, Heiko Maas, called for "payment channels that are independent of the U.S. [and] an independent Swift system." Swift, a messaging service used to direct cross-border payments, is based in Belgium, but is present in the U.S. and embedded in its financial system.
In response, Germany, France and Britain set up a financial clearinghouse for transactions with Iran, known as Instex.
Could these efforts be more successful than Europe's previous attempts to break free from dollar dominance? The timing is propitious. The dollar is facing headwinds because of Trump's erratic policies, and other countries are also looking for alternatives to the U.S. financial system.
Currency hegemony can shift, warns Barry Eichengreen, a professor of economics at UC Berkeley, and "one can imagine this shift occurring very quickly if something goes wrong."
The euro is the world's second most used currency. It accounts for about one-fifth of global foreign exchange reserves and a similar share for international holdings of bonds, loans and deposits — compared with more than half in dollars.
One of the few areas where the euro comes close to matching the greenback is in global payments and invoicing, where both currencies account for about 40% each, according to European Central Bank figures.
However, trade between the two economic superpowers is overwhelmingly dollar-denominated. According to International Monetary Fund research, some three-quarters of eurozone sales to the United States, and more than 90% of its imports from there, are invoiced in dollars.
The launch of the euro in 1999 created expectations that the European currency would soon enjoy equal standing with the dollar. But after an initial period of growth, its role in the global economy has stagnated or shrunk, to the point where the euro is now less prominent than when it was established.
"By some measures, the euro plays no larger a role than the Deutschemark and French franc that it replaced," according to a new study by economists Ethan Ilzetzki, Carmen Reinhart and Kenneth Rogoff.
They argue that "a central reason is the scarcity of high-quality marketable euro-denominated assets, and the general lack of liquidity compared to dollar debt markets." Because of credit downgrades in the previous crisis and a still-fragmented private securities market, the euro has too few of the reliable assets that global investors use as reserves: typically ultra-safe triple A-rated bonds issued by creditworthy governments or companies.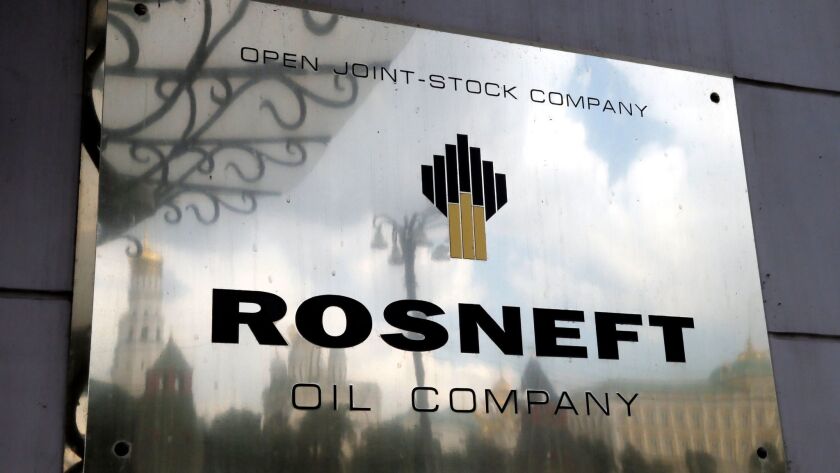 Rosneft, the biggest Russian oil producer, announced in October that it had switched to euros from dollars for all its export contracts.
(Yuri Kochetkov / European Pressphoto Agency)
The European Central Bank agrees, according to Benoît Cœuré, a member of its executive board. "In our analysis, [the most important move] would be a deepening of European capital markets and the introduction of a safe asset. That would be a game changer."
In fact, no currency has ever gained predominance without liquid markets in a benchmark asset, said Eichengreen.
The lack of safe euro-denominated assets was aggravated by the 2010-12 eurozone sovereign debt crisis, when investors feared the single currency might fall apart. "It's a perfectly fine idea to promote the euro in international markets," said Gita Gopinath, IMF chief economist. "But the necessary condition for that is to improve the euro area architecture to strengthen resilience — centralized fiscal capacity, capital markets union, banking union."
Beefing up the eurozone architecture is only the start. The "physical access" of non-eurozone investors to the currency must also be actively supported, said Elina Ribakova, an economist at the Institute for International Finance. Among other things, the European Central Bank must be more willing "to provide swap lines [of euros to other central banks] outside the euro area," like the U.S. Federal Reserve has done for dollars.
Economists have tended to measure a currency's global role by looking at its use in international reserves for central banks and big private investors. But more recently, they have started to pay more attention to a different barometer: the currency choice for trade invoicing and transactions.
"The origins of currency dominance are in transactions," said Gopinath, who believes that the heavy use of the dollar in trade has been an important factor in its "exorbitant privilege."
"For many emerging markets, over 80% of their imports are invoiced in U.S. dollars," she said. "To protect themselves against currency movements, it is quite natural that they will choose to save in dollars, which in turn leads to dollar dominance in asset markets."
She argues that a dominant position in invoicing and payments brings macroeconomic advantages. "The rest of the world is far more sensitive to U.S. monetary policy than the other way round. U.S. inflation is quite insulated from its own currency movements," she said.
This is the context for the EU commission's drive to increase the euro share of trade with the outside world, in particular in energy.
Von der Leyen has instructed Kadri Simson, the commissioner for energy, "to look at ways to sharply increase the use of the euro in energy markets." The initiative already seems to be bearing fruit. After a meeting between Russian and commission officials in June, Russian media reported that a joint working group would be set up on shifting energy invoicing out of dollars. In October, Rosneft, the biggest Russian oil producer, announced it had switched to euros from dollars for all its export contracts.
Ribakova argues the European authorities can have some influence on what currency is used for invoicing in "big-ticket items," such as energy markets, where there are a limited number of transactions.
"For historical reasons, in the past most energy suppliers were pegged to the dollar and the U.S. was the largest consumer," she said. "[But now] Europeans are the largest consumers and some of the largest suppliers no longer peg to the dollar."
While the plans to promote the euro in energy invoicing have made some progress, the attempt to set up a euro alternative to Swift has been a disappointment. Instex "hasn't worked at all," said Ribakova, because companies using Instex still risk being cut off from the dollar-based financial system. "I think the cost of missing out on the U.S. market is too significant for banks — even non-financial companies as well — to take part."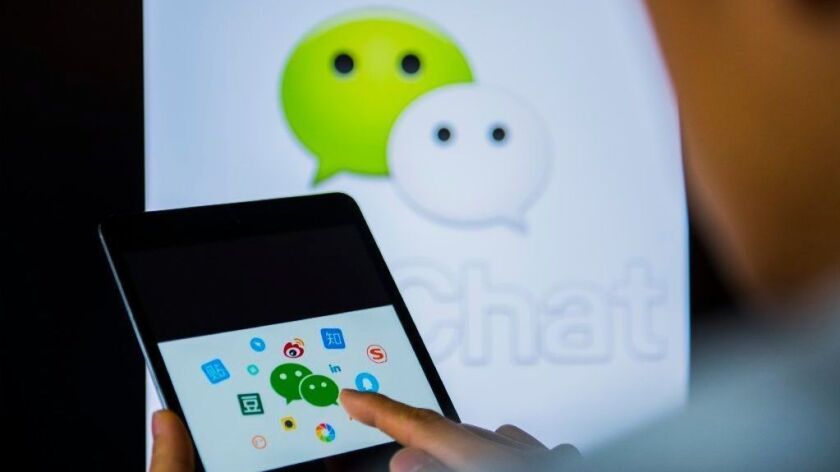 WeChat, the Chinese payment app, is less reliant on the U.S. financial system than other international services.
(studioEAST / Getty Images)
The IMF's Gopinath believes it will be difficult for the euro to dislodge the dollar because of the "very strong network effects" that sustain the U.S. currency. "When large parts of the world are trading with each other and saving and borrowing in dollars and holding reserves in dollars — all these channels reinforce each other and the dollar's lead position," she said.
The dollar's hegemony is being put under pressure by rapid changes in payments technology and the launch of digital alternatives to cash.
When Facebook announced in May that it wanted to enter the payments industry with a virtual currency called Libra, finance ministers and central bankers immediately insisted the company could not be allowed to circumvent regulations or undermine financial stability. For governments, the ultimate fear is that Libra could displace national currencies and render monetary policy impotent. This could happen much faster than historical changes in currency use, warned Cœuré.
"We tend to see currency choice as a historical process which links to slow changes in trade," he said. "Digital currencies have the potential of making change happen much faster."
Ribakova cited WeChat, the Chinese payment app, which is much less "reliant on the U.S. financial system. That is something Russian authorities are trying to do as well." Beijing is reportedly close to launching an official digital currency, with the direct involvement of China's central bank.
Could there be an opportunity to increase euro use by creating a European alternative to these initiatives? Ribakova said the emphasis should be on good payments regulation.
"I don't think it's necessary to promote euro-denominated digital systems," she said. "It is important to have transparent and well-regulated systems and hope the currency goes along. That would reduce reliance on U.S.-based systems."
The private sector in Europe, however, is beginning to ask for more. The association of private commercial banks in Germany has called for the creation of a digital euro. One of their stated motivations was to avoid relying on China or U.S.-based services.
© The Financial Times Ltd. 2019. All Rights Reserved. FT and Financial Times are trademarks of the Financial Times Ltd. Not to be redistributed, copied or modified in any way.
Best places to visit in Europe in January 2020
---
© Shutterstock Gstaad, Switzerland, is that picture-perfect Swiss village you've always wanted to visit.
Peak travel season in Europe is summer. But if you have a high tolerance for colder weather and a low tolerance for crowds, winter in Europe could be your bliss. Plus if you love a bargain, prices tend to go lower this time of year.
© Peter Zimmermann/dpa/AP The village of San Andres on on the Canary Island of Tenerife is good place to soak up precious January sun.
We've got five of the best places in Europe to visit in January 2020 with a few highlights of things to do:
© Massimo Bettiol/Getty Images If you visit in late January, you can catch the Ralley Monte-Carlo. Florence, Italy
This Renaissance favorite gets quite cool in January. But this is an indoor maneuver -- specifically, a chance to see Florence's renowned museums more on your terms.
You'll very likely find shorter lines at museums such as the Uffizi Gallery (home of Sandro Botticelli's "Birth of Venus") and the Accademia Gallery (home of Michelangelo's sculpture "David").
It's also a chance to explore Florence's other excellent museums, including the Museo dell'Opera del Duomo (part of the famed Florence Cathedral) and the Palazzo Strozzi (for contemporary art).
© Olivier Morin/AFP/Getty Images Tromso is far north, even by Norwegian standards. But its winter rewards are many. Tromso, Norway
Pack your heaviest winter gear and head for the northern Norwegian destination of Tromso where you'll delight all your senses.
Hearing first. January brings the annual Arctic Light Festival (also called Northern Lights Festival). This international music festival runs from January 23 to February 2, and you can hear anything from jazz to chamber music.
© Luca Bruno/AP January is one of the best times to see Florence's world-renowned works of art such as Botticelli's "Spring" at the Uffizi Gallery.
Next, your sight. This is prime time for northern lights activity. Nothing can be promised, but the long, dark polar night affords one of the best chances to catch a glimpse of the mesmerizing aurora borealis.
For taste and smell, you might want to check out Fiskekompaniet Tromso AS with its emphasis on fresh Arctic seafood.
As for touch, the brisk Arctic air will leave you tingling.
Monte Carlo, Monaco
This luxurious seaside escape on the Mediterranean Sea is a beauty to behold all year, but in January, racing fans have an extra reason to visit.
This will be the 88th running of the Ralley Monte-Carlo (January 20-26). While much of the action is in big neighbor France, the start and finish are in Monte Carlo.
If you can't make it for the rally, you can still indulge your automotive obsession anytime at Prince Ranier's car collection, which holds makes from Rolls Royce to Alfa Romeo.
You might consider a stay at the storied and recently renovated Hôtel de Paris Monte-Carlo -- or least go and look around a bit.
And while it isn't beach romping season in January, you won't be beset with the truly frigid temperatures you'd find farther north in Europe.
Gstaad, Switzerland
This Alpine celebrity hangout has plenty of activities in January.
First and foremost is the International Hot Balloon Festival (January 25 through February 2). You can view the colorful balloons against a blue Swiss winter sky or take a ride yourself and get an unparalleled and relaxing view of the mighty Alps.
There's also a Snow Bike Festival (January 17-19) if you want to get your thrills on the ground.
And anytime of the the month, you can partake in the incredible skiing and snowboarding that Gstaad offers. If you want some real winter sports bragging rights, you can even ski on a glacier here.
Canary Islands, Spain
If our Switzerland and Norway suggestions sent a chill down your spine, here's a warm weather play.
These islands are actually off the northwest coast of Africa, but because they are Spanish holdings, they slide in on technicality. And you'll not find anything else this warm in Europe -- with average highs reaching 20.5 C (69 F).
Along with the beaches, you can take hikes in stunning volcanic landscape or visit the mind-blowing Siam Park for water-park thrills.
Bonus: The 36nd annual International Music Festival will be held January 9 to February 9 with the likes of the Philharmonia Orchestra of London performing.