Middle Eastern monarchies: how do Arab ruling families hold on to power?
---
When the Jordanian royal family gathered on April 11 to celebrate 100 years since the kingdom's foundation, it was a picture of dynastic unity. Alongside King Abdullah was his half-brother, the former crown prince Hamzah bin al-Hussein, who had only days ago been placed under house arrest, following what was reported in the world's press as a "coup attempt". The king gave interviews assuring the outside world that all was well and that the former heir to the Jordanian throne had offered him his loyalty.
In no other area of the world do royal families dominate politics as much as in the Middle East. Six of the states on the Arabian peninsula are monarchies, as are Jordan and Morocco. Royals not only rule in these states, but in most cases members of the royal family dominate positions of influence in government and business sectors.
This prevalence of absolute monarchies in the Middle East has puzzled scholars for decades. Many somewhat arrogantly assumed that these modes of governance would die out as the states modernised and "inevitably" followed the western model, becoming republics or embracing the constitutional monarchy model. Yet the monarchies have proved to be rather resilient.
During the seismic regional upheaval of the Arab Spring from 2010 onwards, a number of republics were convulsed by revolution. But, while several monarchies endured significant protests, none fell – and few really looked in mortal peril.
How do the monarchies hold on?
Investigating the roots of this resilience has engendered a burst of scholarship. Some scholars have argued that monarchies were culturally or otherwise locally attuned and fit simply into prevalent tribal heritages. Others suggested that monarchies are more effective at controlling opposition or that they oppress their way to relative stability.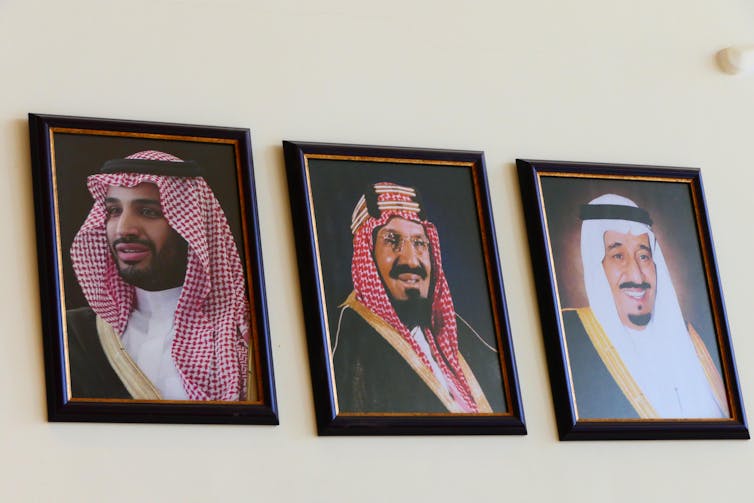 Dynasty: the House of Saud has ruled since the First Saudi State was established in 1744. Friemann/Alamy Stock Photo
But such explanations struggle to contend with the region's history. Any sense of a special predilection in the Middle East for monarchy is undercut by the reality that many monarchies have fallen in the past century or so, as in Egypt, Tunisia, Iraq, North Yemen, South Arabia, Libya and Iran.
A more compelling explanation is likely to lie elsewhere. For the Gulf monarchies, it is difficult to get away from the transformative impact of gargantuan levels of hydrocarbon resources.
Wealth alone is far from a panacea – just ask citizens in Iraq, Iran, or Venezuela. But the careful and effective distribution of wealth has surely been a critical factor engendering comparative stability in the monarchies. Not only that, but all monarchies occupy important geostrategic locations. As such, they arguably benefit from the support of influential external states in maintaining the status quo – including the US in the case of the Gulf monarchies and Jordan, and France in the case of Morocco.
The kings and emirs of these states are not elected, and criticising them or their position is usually a bright red line that citizens do not cross. Still, neither are they despots, and they rule with often a surprising degree of support from a range of constituencies.
Indeed, most royal elites created systems to place themselves at the apex of wealth or favour redistribution schemes that are baked into the state's political economy. This means they have created strong and sometimes diverse groups of individuals and structures in society who continue to be dependent on the status quo from which they benefit.
These benefits vary from country to country. Monarchs in the Gulf have long overseen some of the world's most generous welfare state systems, as well as low rates of taxation, sometimes explicit promises of jobs in the government sector, and a litany of subsidies. Similarly, in Jordan it has long been argued that elites used government handouts and patronage to boost support in key tribal constituencies.
Storing up problems
This system has worked for decades, but is coming under increasing pressure. Indeed, arguably the central problem that the monarchies face, albeit to varying degrees, is that their economies are classed as rentier economies. This means that, in reality, a comparatively small percentage of the populations are involved with making the majority of the state's income, which tends to come from extractive industries (oil, gas, minerals) or international support.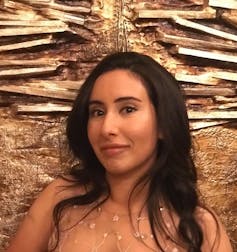 Princess Latifa, the daughter of Dubai's ruler Sheikh Mohammed bin Rashid Al Maktoum, recently said in a video recording she was being held captive by her family. Abaca Press / Alamy Stock Photo
The obvious issues here are that these resources are finite and subject to wildly shifting demand and prices. The influence of, for example, hydrocarbons on local economies is so pervasive that it tends to inhibit the emergence of an autonomous, functioning economy. Overall, this means that the state's GDP lurches around according to factors well beyond the control of the state, which has long played havoc with governments striving to set a sustainable, clear, long-term budget.
Diversifying these economies away from a reliance on these kinds of basic sources of income has been a goal for generations. The results show that states fail to meaningfully diversify unless they are forced to – and even when the wells run practically dry, they switch, like Bahrain, to relying on other monarchies for financial support.
The recent elite spat and mini crisis in Jordan is arguably rooted in precisely these kinds of economic concerns. But, if recent reports are to be believed, the family squabble has been resolved, order has been restored and – for the time being at least – the status quo appears to have survived.
Source:
Middle Eastern monarchies: how do Arab ruling families hold on to power?
U.S. sends more firepower to Middle East as troops withdraw from Afghanistan
---
A U.S. Air Force F-15E Strike Eagle piloted by a member of the 494th Expeditionary Fighter Squadron takes off from Al Dhafra Air Base, United Arab Emirates, in support of regional security operations, April 30, 2021.
Staff Sgt. Zade Vadnais | U.S. Air Force photo
WASHINGTON – The Pentagon has ramped up its military assets in the Middle East as U.S. and NATO coalition forces begin the colossal task of withdrawing from Afghanistan.
This week, two more U.S. Air Force B-52 Stratofortress strategic bombers arrived at Al Udeid Air Base in Qatar, bringing the total number of B-52s on standby to respond to a Taliban attack to six.
"We have made it exceedingly clear that protecting our forces and the forces of our allies and partners as they too withdraw is a priority, it's a main priority," Pentagon spokesman John Kirby told reporters Wednesday.
"We have made plans to introduce additional ground force capabilities to, again, make sure that this is safe and orderly," Kirby added. The Pentagon also extended the deployment of a U.S. Navy carrier strike group in the region and deployed a dozen F-18 fighter jets to provide additional support.
Kirby has previously said that U.S. Central Command, the combatant command that oversees American operations in the Middle East, will continue to assess the need for additional military capabilities as the departure of U.S. and coalition forces proceeds.
A B-52H Stratofortress aircraft assigned to the 5th Bomb Wing, Minot Air Force Base, North Dakota, arrives May 4, 2021, at Al Udeid Air Base, Qatar.
Staff Sgt. Greg Erwin | U.S. Air Force photo
"The President has decided to end America's involvement in our longest war and we're going to do just that. And so far, less than one week in, the drawdown is going according to plan," Secretary of Defense Lloyd Austin told reporters at the Pentagon on Thursday.
"Our focus is on making sure that we can retrograde our resources, our troops, our allies in a safe and orderly and responsible fashion," Austin said, adding that in the future the Defense Department, hopeful of congressional support, plans to provide financial aid to Afghan forces.
Last week, the White House confirmed that U.S. troops had begun the withdrawal process from Afghanistan and that the Pentagon proactively deployed additional troops and military equipment to protect forces in the region.
"Potential adversaries should know that if they attack us in our withdrawal, we will defend ourselves, [and] our partners, with all the tools at our disposal," White House deputy press secretary Karine Jean-Pierre told reporters traveling on Air Force One.
"While these actions will initially result in increased forces levels, we remain committed to having all U.S. military personnel out of Afghanistan by Sept. 11, 2021," she said, adding that the Biden administration is intent on a "safe and responsible" exit from the war-torn country.
Aircrew assigned to Al Udeid Air Base, Qatar, carry their gear into a C-17 Globemaster III assigned to Joint Base Charleston, South Carolina, April 27, 2021.
Staff Sgt. Kylee Gardner | U.S. Air Force photo
In April, Biden announced a full withdrawal of U.S. troops from Afghanistan by Sept. 11, ending America's longest war.
The removal of approximately 3,000 U.S. service members coincides with the 20th anniversary of the Sept. 11 terrorist attacks, which spurred America's entry into lengthy wars in the Middle East and Central Asia.
Biden's withdrawal timeline breaks with a proposed deadline brokered last year by the Trump administration with the Taliban. According to that deal, all foreign forces would have had to leave Afghanistan by May 1.
Since Biden's decision to exit the country, the U.S. has removed the equivalent of approximately 60 C-17 Globemaster loads of material out of Afghanistan, according to an update from Central Command. More than 1,300 pieces of equipment, which will not be left to the Afghan military, have also been handed over to the Defense Logistics Agency for destruction.
The U.S. has also officially handed over one facility to the Afghan military. So far, Central Command estimates that the U.S. has completed between 2% and 6% of the withdrawal process.
Source:
U.S. sends more firepower to Middle East as troops withdraw from Afghanistan
Democrats on de-escalation tour of the Middle East
---
Eat This, Not That!
Dr. Fauci Says This is His "Worst Nightmare"
Will COVID-19 ever go away? That's the question Dr. Anthony Fauci, the chief medical advisor to the President and the director of the National Institute of Allergy and Infectious Diseases, was asked in an interview with Israel's Channel 13. That country is seeing near-herd-immunity levels of virus diminution, and Fauci also discussed what lessons we might learn from its success. Read on for his answer, along with 4 points that may save your life—and to ensure your health and the health of others, don't miss these Sure Signs You Had COVID and Didn't Know It. 1 Dr. Fauci Says This is His "Worst Nightmare" Dr. Fauci was asked if he ever thought he'd see a pandemic like the one of 1918. "I had hoped that I would never see that, but deep down in the back of my mind, I was always very concerned," he answered. "People would often ask me over the years, what keeps you up at night? What is your worst nightmare? And I would say very consistently: [that] would be the appearance of a new virus that jumped species from an animal host to a human that had two major characteristics. One, it spread extraordinarily easily from person to person as a respiratory borne infection. And two, it had the capability of resulting in considerable degree of morbidity and mortality. And unfortunately for all of us in the world, my worst nightmare has actually come true." 2 Dr. Fauci Said USA Cases May Start to Seriously Diminish, Just Like In Israel Dr. Fauci says he'd use "Israel as the prototype example of what actually goes right." He clarified: "I don't think Israel did everything perfectly. No one does things perfectly, but you had a couple of things in your favor. One, you're a small country with a small population that is used to pulling together. I think the history of Israel because of the political circumstances that surround you in the region, you know what it means to stick together as a single unit. Otherwise you would not have survived as well as you survive. When I give lectures and briefings about the response to COVID-19. I have a very now well-known slide because I show it so often of the curve of the vaccines going up in Israel, as the cases go down and now they're separated by a lot. That's where we want to be in the United States. And I keep telling them when I brief the leaders of our own country, I say, I believe we are almost at that point where Israel was some time ago when the lines crossed and the cases dramatically diminished." 3 Dr. Fauci Said Israel is Close to Herd Immunity—and That COVID-19 Will Never Fully Be Eradicated There's only one virus "that we've ever eradicated. And that's smallpox," said Dr. Fauci. "There are several that we have eliminated in certain countries like polio in the United States and Israel, but there are others where you just control it. You get it down to such a low level that it is not an epidemic threat, but you haven't gotten rid of it completely. I believe that's what's going to happen with COVID-19, because it is too easily transmissible and it is spread so broadly throughout the world. I think countries will ultimately control it. There will be herd immunity in different countries. I'm almost certain that Israel is going to wind up getting them because you're close to that right now. But I think we very likely will have to continue to vaccinate over a period of several years."RELATED: The #1 Cause of Obesity, According to Science 4 Dr. Fauci Said It's "Essential" For Children to Get Vaccinated "I would strongly recommend that children get vaccinated for a couple of reasons," said Dr. Fauci, "even though most of the time children do not get serious disease. There is a certain proportion of children who actually do get sick and young people. Also children could be an important vehicle for spread throughout the community. So I believe it would be essential to vaccinate children, just the way we vaccinate children against all the childhood diseases that you and I get vaccinated for every year." So get vaccinated when it becomes available to you, and to protect your life and the lives of others, don't visit any of these 35 Places You're Most Likely to Catch COVID.
Source:
Democrats on de-escalation tour of the Middle East