Science publishers review ethics of research on Chinese minority groups
---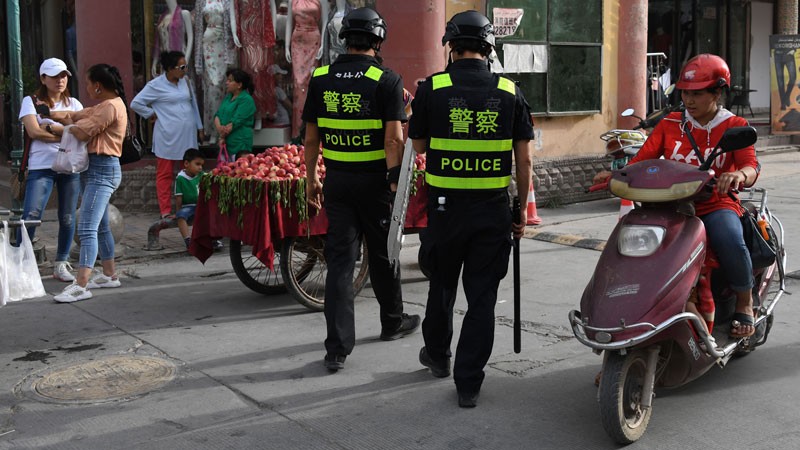 Two science publishers are reviewing the ethics of research papers in which scientists backed by China's government used DNA or facial-recognition technology to study minority groups in the country, such as the predominantly Muslim Uyghur population.
Springer Nature (which publishes Nature) and Wiley want to check that the study participants gave informed consent, after researchers and journalists raised concerns that the papers were connected to China's heavy surveillance operations in the northwestern province of Xinjiang. China has attracted widespread international condemnation — and US sanctions — for mass detentions and other human-rights violations in the province. The Chinese government says that it is conducting a re-education campaign in the region to quell what it calls a terrorist movement.
"We are very concerned about research which involves consent from vulnerable populations," says a spokesperson from Springer Nature (Nature's news team is editorially independent of its publisher).
The publishers' announcements, which The New York Times reported on 4 December, follow rising concerns about the publication of such work.
Scientists say there are scores of such research papers in the literature. Earlier this week, Yves Moreau, a computational biologist at the Catholic University of Leuven in Belgium, wrote an opinion article in Nature warning of the dangers that accompany the proliferation of DNA profiling and calling for all unethical work in biometric research to be retracted to avoid giving its authors academic credence.
Ethical ambiguity
Springer Nature said that this week it would add notes of concern about consent to two papers1,2 that reported studies using DNA from hundreds of Uyghurs to predict height or facial shape. One of the papers, published in Human Genetics1, was highlighted in a separate New York Times article, also published earlier this week, that described worries that the participants hadn't given informed consent.
Both papers state that volunteers gave consent, and that the studies were approved by an ethics committee from the Institute of Forensic Science which is affiliated with China's police and security authority.
"We are ordinary forensic scientists who carry out forensic research following the scientific research ethics norms," said Caixia Li of the Institute of Forensic Science in Beijing, a co-author on both papers1,2, in an e-mail to Nature's news team. He noted that the "study" was approved by his institute, and said that "all individuals provided written informed consent".
Moreau says that it's hard to see how Uyghur peoples could give free, informed consent to DNA or facial-recognition work — given that so many people in that ethnic group have been sent to internment camps (which China calls education facilities). "It is my opinion that no population-genetics research on Chinese populations can be considered ethical, because the risk of abuse is so pervasive."
Springer Nature has identified a number of other 'papers of concern' published by its journals, the spokesperson adds, which are being investigated. And it has updated its guidance to editors and authors about the need to gain explicit and informed consent in studies that involve clinical, biomedical or biometric data from people. "All instances of non-compliance with our policies will result in appropriate editorial action, which may include retraction," the spokesperson said.
Moreau says: "Expression of concerns are a welcome first step, but this is only meaningful if it is the start of a large-scale ethical review of all forensic population-genetic research on Chinese populations and of all biometric research."
Under investigation
Wiley, meanwhile, said it was opening a formal investigation into a 2018 article that described analysing a database of photos of Uyghur, Tibetan and Korean groups using various facial-recognition algorithms3. In September, four researchers, including Moreau, who were led by the advocacy group Tech Inquiry in Toronto, Canada, had asked Wiley to retract the paper because of the potential for abuse of facial-recognition technology, and the "racial overtones of the authors' language". One of the paper's co-authors is affiliated with Curtin University in Perth, Australia, which this month also requested that Wiley review the paper.
Jack Poulson, an applied mathematician and former Google employee who is the founder of Tech Inquiry, says Curtin deserves public credit for its response. "If it's clear that there's any chance that a paper might contribute to human-rights violations, I think it's fair to call for a retraction," he says.
"We conducted an initial review of the paper in question and found the journal did follow existing guidelines," a spokesperson for Wiley said, but confirmed that the publisher was now re-evaluating the paper.
In its September letter, Tech Inquiry noted that, according to guidelines laid down by the Committee on Publication Ethics, a London-based publisher-advisory body, papers can be rejected on ethical grounds even if they come with approvals from an ethics committee (as the Wiley paper did). The guidelines also say that journals should take special care when the research is conducted on "vulnerable groups", which Springer Nature has emphasized in its latest editorial policies. Nature's news team asked the paper's authors for comment, but they have not replied.
Widespread concerns
There are numerous examples of papers that report the use of biometric technology to study Uyghur and other minority ethnic groups in China. Moreau wrote in his opinion article that he had identified 40 articles co-authored by members of the Chinese police in 3 leading forensic-genetics journals — published by Springer Nature and by Elsevier — that describe the DNA profiling of Tibetans and Muslim minorities. And of a wider sample of more than 500 forensic population-genetics studies in Chinese populations, he wrote, half had co-authors from China's police force, military or judiciary.
A spokesperson for Elsevier said that the company is in the process of producing more comprehensive guidelines for the publication of genetic data, but that it was "unable to control the potential misuse of population data articles" by third parties after publication.
Springer Nature also said that it would tighten its oversight of the academic-conference proceedings that it publishes. It said it would require that conference organizers — who have editorial oversight of what is presented — make sure that published proceedings comply with the publisher's policies, and that it would reserve the right to retract proceedings that didn't meet these requisites.
Journalists have previously raised concerns about numerous conference papers that describe studying Uyghur groups, including manuscripts from a biometrics conference held in Xinjiang in 2018 that Springer Nature published as a book4.
The Institute of Electrical and Electronics Engineers (IEEE) has also published conference proceedings describing facial-recognition analyses of Uyghur populations (see, for example, refs 5,6). Asked by Nature's news team whether the IEEE, too, was reviewing the issues, the IEEE's president and chief executive José Moura wrote: "IEEE recognizes the importance of protecting individuals who are involved in human subject research and the role of the Institutional Review Boards in that effort. IEEE is committed to reviewing our policies to ensure more consistent application of this process across the full range of IEEE publications."
Source:
Science publishers review ethics of research on Chinese minority groups
Solon's Steve Karklin excited about new role as board chair of Great Lakes Science Center
---
SOLON, Ohio – Serving on the Great Lakes Science Center Board of Directors is a natural fit for Steve Karklin, who says he's always been interested in science, business and technology.
"When I was a kid, I went to science museums whenever I could," he said. "When my children were young, I took them to our science center regularly. It's just always been a love of mine."
Karklin, a Solon-based entrepreneur who has served on the GLSC board almost two years, will be installed Tuesday (Dec. 10) as the ninth board chair in the science center's 23-year history. He begins a two-year term, replacing David Peace, who served as board chair the past three years.
"I am incredibly excited and honored, but most of all humbled, to be chosen (as board chair)," he said. "The board of the science center has extreme breadth and depth, and the experience that we have on that board is substantial."
Karklin, 63, said he chose to attend Indiana University in Bloomington, Ind., because it was a top-10 business school and very strong in the sciences as well. He earned a bachelor's degree in marketing from the university and an MBA in finance and marketing from IU's Kelley School of Business.
"I became what many call a 'serial entrepreneur,' probably because I've gotten involved in either investing, buying, selling or working with a lot of different entrepreneurial ventures," he said.
In 1990, Karklin founded CDK Enterprises Investment Holdings, which invests in and offers services to entrepreneurs and small businesses, and serves as its president. He noted CDK stands for the initials of each of his children's first names: Cliff, Drew and Kirstin.
"CDK is basically a real estate company, both commercial and residential," he said. "But it also serves as a source of consulting for entrepreneurs and as an investment vehicle for me."
Karklin, who has offices in Mayfield Village and Solon, also has served as chairman and CEO of ClearWinds Capital Group since 2012.
"ClearWinds is a micro-hedge fund with a focus on the ETF (exchange-traded fund) derivative markets," he said.
Karklin and his wife, Debbie, have lived in Solon since 1981. They moved there shortly after they were married.
"We were looking for a growing community, which Solon was," he said. "They had fabulous schools and a great tax base."
All three of Karklin's children graduated from Solon High School, and he noted his two granddaughters also attend Solon City Schools.
Karklin said Cleveland is fortunate to have a "world-class organization and facility" like the Great Lakes Science Center, but he believes many of its programs and features are not known by the community at large.
"So one of my goals as board chair is to raise the stature, reputation and visibility of the science center within our community and let people know about all these amazing things that we're doing," he said.
For example, Karklin said, the GLSC houses a ninth-grade high school class called MC-Squared STEM High School. The experiential-based educational program, which serves 120 students, is the result of a partnership between the Cleveland Metropolitan School District and the GLSC.
"We also have a program called Great Science Academy, which has another 120 to 150 kids spread across sixth through ninth grades," he said. "Every other Saturday during the school year, these kids dive into different technologies.
"We basically give them boxes of things to work with, and they come up with very interesting ways to solve problems. If I were a kid growing up today, I would have loved a program like that."
In addition, Karklin noted, the GLSC serves about 2,500 students annually in a series of camps during the summer and spring and winter breaks; it's home to the NASA Glenn Visitor Center, one of only 11 such centers in the United States; and its Cleveland Clinic DOME Theater is 100 percent digital and features the world's first giant dome three-projector, laser-illuminated projection system.
"For these reasons and many more, the Great Lakes Science Center is a jewel on the North Coast of Cleveland, Ohio, and I really want to get the message out about some of those things," he said.
In addition to spreading that message, Karklin said he has two other primary goals as board chair: one internal and one external.
"I really see myself as an advocate for the rest of the board to enable each board member to do what they want to do with the science center, however they want to be involved," he said. "I see that as a key role internally."
Another external goal, Karklin said, is to make sure that the GLSC is set up well and running efficiently, so it can execute its mission: to make science, technology, engineering and math come alive.
"There are very few opportunities to serve on a world-class organization's board where you truly get to make a difference," he said. "With the Great Lakes Science Center's 25th anniversary coming up in 2021, the next few years can be transformative. It's incredibly exciting to think of the impact we may have."
A Cleveland native, Karklin grew up in Pepper Pike and graduated from Orange High School in 1974.
Karklin is a member of B'nai Jeshurun Congregation in Pepper Pike, where he serves on the board of trustees and as co-chairman of the development committee.
He also serves on the board of the retirement fund investment committee of the Jewish Federation of Cleveland.
Source:
Solon's Steve Karklin excited about new role as board chair of Great Lakes Science Center
Zacks.com featured highlights include: Target, Medtronic Public, Arconic, Science Applications International and Bristol-Myers Squibb
---
For Immediate Release
Chicago, IL – December 6, 2019 - Stocks in this week's article are Target Corp. TGT, Medtronic Public Limited Co. MDT, Arconic Inc. ARNC, Science Applications International Corp. SAIC and Bristol-Myers Squibb BMY.
5 Stocks Near 52-Week Highs with More Room to Run
Investors generally use 52-week high as an indicator to pick stocks. This is because stocks near that level are perceived to be winners.
However, considering the high price, investors often wonder if the stock is overpriced. While the speculations are not absolutely baseless, all stocks hitting a 52-week high are not necessarily overpriced.
In fact, investors might lose out on top gainers in an attempt to avoid the steep prices of stocks that are near their 52-week high mark.
A good stock can maintain the momentum and keep scaling new highs. So, more information on a stock is necessary to understand whether there is scope for further upside.
Here we discuss a strategy to find the right stocks, which borrows from the basics of momentum investing, this technique bets on "buy high, sell higher."
52-Week High: A Good Indicator
Many a time, stocks hitting a 52-week high fail to scale higher despite having potential. This is because investors fear that the stocks are overvalued, and expect the price to crash.
In fact, overvaluation is natural for most of these stocks as investors' focus (or willingness to pay premium) has helped them reach the level. But that does not always indicate an impending decline. Factors such as robust sales, surging profit levels, earnings growth prospects and strategic acquisitions that encouraged investors to bet on these stocks could keep them motivated if there is no tangible negative. In other words, the momentum might continue.
Also, when a string of positive developments dominates the market, investors find their under-reaction unwarranted, even if there are no company-specific driving forces.
For the rest of this Screen of the Week article please visit Zacks.com at: https://www.zacks.com/stock/news/654050/5-highflying-stocks-near-52week-high-with-more-room-to-run?art_rec=quote-stock_overview-zacks_news-ID05-txt-654050
Disclosure: Officers, directors and/or employees of Zacks Investment Research may own or have sold short securities and/or hold long and/or short positions in options that are mentioned in this material. An affiliated investment advisory firm may own or have sold short securities and/or hold long and/or short positions in options that are mentioned in this material.
About Screen of the Week
Zacks.com created the first and best screening system on the web earning the distinction as the "#1 site for screening stocks" by Money Magazine.  But powerful screening tools is just the start. That is why Zacks created the Screen of the Week to highlight profitable stock picking strategies that investors can actively use.
Strong Stocks that Should Be in the News
Many are little publicized and fly under the Wall Street radar. They're virtually unknown to the general public. Yet today's 220 Zacks Rank #1 "Strong Buys" were generated by the stock-picking system that has more than doubled the market from 1988 through 2016. Its average gain has been a stellar +25% per year. See these high-potential stocks free >>.
Follow us on Twitter:  https://twitter.com/zacksresearch
Join us on Facebook:  https://www.facebook.com/ZacksInvestmentResearch
Zacks Investment Research is under common control with affiliated entities (including a broker-dealer and an investment adviser), which may engage in transactions involving the foregoing securities for the clients of such affiliates.
Contact: Jim Giaquinto
Company: Zacks.com
Phone: 312-265-9268
Email: pr@zacks.com
Visit: www.Zacks.com
Zacks.com provides investment resources and informs you of these resources, which you may choose to use in making your own investment decisions. Zacks is providing information on this resource to you subject to the Zacks "Terms and Conditions of Service" disclaimer. www.zacks.com/disclaimer.
Past performance is no guarantee of future results. Inherent in any investment is the potential for loss. This material is being provided for informational purposes only and nothing herein constitutes investment, legal, accounting or tax advice, or a recommendation to buy, sell or hold a security. No recommendation or advice is being given as to whether any investment is suitable for a particular investor. It should not be assumed that any investments in securities, companies, sectors or markets identified and described were or will be profitable. All information is current as of the date of herein and is subject to change without notice. Any views or opinions expressed may not reflect those of the firm as a whole. Zacks Investment Research does not engage in investment banking, market making or asset management activities of any securities. These returns are from hypothetical portfolios consisting of stocks with Zacks Rank = 1 that were rebalanced monthly with zero transaction costs. These are not the returns of actual portfolios of stocks. The S&P 500 is an unmanaged index. Visit https://www.zacks.com/performance for information about the performance numbers displayed in this press release.
Story continues
Source:
Zacks.com featured highlights include: Target, Medtronic Public, Arconic, Science Applications International and Bristol-Myers Squibb