'SNL': Marjorie Taylor Greene gives NSFW science lesson, talks gender neutral Potato Head
---
"Saturday Night Live" viewers just got a "sience" lesson they won't soon forget.
During this week's episode, Rep. Marjorie Taylor Greene (Cecily Strong) stopped by the Weekend Update desk to explain her views on gender to anchor Colin Jost.
Earlier this week, Taylor Greenedrew backlash for placing a sign that read "There are TWO genders: MALE & FEMALE. Trust The Science!" across the hall from another congresswoman who has a transgender child.
Wearing a misspelled shirt that read "trust the sience," Strong's Greene elaborated on her views.
"I love science," she said. "I'm always talking science. Unless that science is about climate change, coronavirus, space lasers, evolution, the metric system, the rhythm method, breastfeeding, living on Mars, Jesus' skin color or Santa's skin color, by the way, which is white."
Cecily Strong, right, previously played U.S. Rep. Marjorie Taylor Greene on "SNL" in a sketch with Kate McKinnon on Jan. 30.
After reciting an NSFW rhyme about anatomy, Strong's Greene explained that "we're all endowed with traditional gender roles."
"I'm a woman, so it's my job to bully, threaten and fight my female colleagues," she added. "Scientists call these 'cat fights,' and it's what girls do."
Strong's Greene also weighed in on another recent controversy: Hasbro's decision to rebrand the Mr. Potato Head toy as the gender neutral Potato Head.
Kate McKinnon reminds us that nothing works in America in first 'SNL' of 2021
"Did you hear they are trying to cancel Mr. Potato Head?" she said, before making an NSFW joke about the toy's anatomy.
When Jost asked if this is the kind of issue a member of Congress should be concerned about, Strong's Greene was quick to reply.
"All I'm saying is that if Mr. Potato Head is allowed to marry another Mr. Potato Head, I'll kill myself," she said. "Does that sound crazy?"
'SNL' mocks Trump's impeachment trial, Kate McKinnon's Lindsey Graham moves to 'Free Britney'
This article originally appeared on USA TODAY: 'SNL': Marjorie Taylor Greene offers NSFW Potato Head take
Source:
'SNL': Marjorie Taylor Greene gives NSFW science lesson, talks gender neutral Potato Head
7 science-backed benefits of vitamin B6 and how much you need each day
---
Spinach is a good source of vitamin B6. Bartosz Luczak / Getty Images
Vitamin B6 is a key nutrient that benefits your immune system, brain, and heart health.
It's also essential for your body's metabolism, helping convert food into energy.
Experts recommend adults get around 1.3 mg of vitamin B6 daily from sources like oats and spinach.
Visit Insider's Health Reference library for more advice.
Vitamin B6 is one of eight B vitamins and is essential for your metabolism, cardiovascular health, and much more. But because vitamin B6 is water-soluble, and not fat-soluble, it's regularly flushed out of the body, and therefore needs to be consumed daily.
Here are eight health benefits of vitamin B6 and how to get enough of it in your diet.
1. Vitamin B6 helps turn food into energy
Along with other B vitamins, B6 assists the body in converting food into energy. It helps metabolize carbohydrates and works with enzymes to break down proteins into amino acids - compounds that help our body grow and function properly.
2. Vitamin B6 supports heart health
"Vitamin B6 works with two other B vitamins - B12 and folic acid - to reduce levels of homocysteine," says Megan Wong, a registered dietitian at AlgaeCal, a calcium supplement company.
Hyperhomocysteinemia occurs when there are high levels of the amino acid homocysteine in the blood. High amounts of homocysteine can lead to an increased risk of cardiovascular disease, heart attacks, strokes, and atherosclerosis, a disease that causes plaque to build up in the arteries.
According to a 2015 report published in the Nutrition Journal, hyperhomocysteinemia can occur when someone is deficient in vitamin B6. But, with the right levels of B6 in combination with B12 and folic acid (B9), homocysteine levels can lower by up to a third. It's important to note that despite lowered homocysteine levels, patients do not see an effect on vascular outcomes. Therefore, B-vitamins may play a more preventative role in heart health.
3. Vitamin B6 promotes healthy brain function
Story continues
An increase in homocysteine levels can also speed up cognitive decline, says Wong. This uptick can lead to an increased risk of neurological conditions such as dementia.
In addition to regulating homocysteine levels, B6 plays a role in the synthesis of important neurotransmitters - chemical messengers used by the brain and nervous system. Some of the neurotransmitters B6 helps synthesize include:
Dopamine: responsible for reward-seeking, motivation, and movement
Serotonin: stabilizes mood, causes feelings of well-being and happiness.
Melatonin: plays a role in regulating our circadian rhythm and ability to fall asleep
Noradrenaline: produces the 'fight or flight' response in our body when we perceive danger
4. Vitamin B6 may help morning sickness
During pregnancy, anyone experiencing morning sickness is often prescribed a combination tablet of doxylamine - an antihistamine - and vitamin B6.
Vitamin B6 has been shown to help with nausea while the doxylamine may reduce vomiting. A typical dose of the combination tablet is 10 mg to 25 mg, three times a day.
5. Vitamin B6 may treat seizures in newborns
Children diagnosed with pyridoxine‐dependent epilepsy (PDE) require between 15 to 500 mg of vitamin B6 a day for life. PDE is a rare, genetic condition that occurs within a few days of being born and is characterized by difficult-to-control seizures. But vitamin B6 can help control the condition.
Pyridoxine‐dependent epilepsy is rare with only 200 cases reported, and occurs within a few days of being born. It is caused by a mutation in the gene ALDH7A1.
When treated intravenously with 50-100 mg of vitamin B6 - also known as pyridoxine - the seizures dissipated within minutes. Children diagnosed with PDE receive 15 to 30mg of vitamin B6 a day for life, but may sometimes require up to 500 mg.
A person with these seizures is vitamin B6 dependent, requiring the nutrient in order to keep the condition at bay as traditional anticonvulsants do not work.
6. Vitamin B6 fosters a healthy immune system
The body requires vitamin B6 to maintain a healthy immune system.
"B6 improves communication from 'messenger' cells called chemokines, which direct white blood cells to areas of infection or damage," says Wong. "Not having enough vitamin B6 can reduce the growth and production of key immune players: lymphocytes and antibodies."
There are two forms of lymphocytes, both of which are altered by a B6 deficiency:
T cells which fights off foreign invaders in the body
B cells which create antibodies that then attach to foreign invaders, like bacteria or viruses, and destroy them
A 2006 study published in the European Journal of Clinical Nutrition found that vitamin B6 improved the immune response in critically ill patients. The study divided 51 participants into three groups: one received an injection of 50 mg of B6 a day, another 100 mg, and a control group. After 14 days of supplementation, those who received 50 to 100 mg of B6 saw an improvement in important markers of immune response like total T-cell count.
7. Vitamin B6 helps prevent anemia
"Vitamin B6 is involved in the production of hemoglobin - a protein that supplies the cells with oxygen," says Lina Velikova, MD, PhD, a clinical immunologist and a medical advisor at Supplements101.
Lower than normal hemoglobin levels is one of the causes of anemia, a condition characterized by low levels of red blood cells. Red blood cells carry oxygen throughout the body, so without adequate red blood cells, one can feel weak and fatigued.
Maintaining an adequate intake of vitamin B6 can help prevent anemia.
How much vitamin B6 do I need?
The amount of B6 you should be consuming on a daily basis depends on age and gender. For each demographic, the daily recommended dose of vitamin B6 is:
Shayanne Gal/Insider
Where can I get vitamin B6?
Vitamin B6 is readily available in food and supplements. "The best way to ensure we have enough of this vitamin is through a vitamin B6-rich diet," says Velikova.
Foods high in B6 include:
Yuqing Liu/Insider
If someone is unable to consume enough vitamin B6 through their diet, they can consider taking B6 supplements. Velikova says dosage should not exceed 1.4 mg a day for women over 18 and 1.7 mg a day for men over 18.
Wong recommends supplements for older adults, especially if they have a reduced appetite that may mean they are not eating enough B6 rich foods.
Talk to your doctor before taking any supplements, as they can help you determine the right dosage.
Insider's takeaway
Vitamin B6 is critical in maintaining proper body functions. Its benefits include improving heart health and fostering a healthy immune system. To ensure you're hitting your daily recommendation of B6 try incorporating chicken, soybeans, and potatoes into your diet.
5 science-backed benefits of vitamin B12 and how to get enough of it in your dietVitamin E is a powerful antioxidant that can boost your immune system - here's how to get enough of it5 Science-proven benefits of vitamin A and how much you need each dayThe best vitamins to help your hair's growth, thickness, and overall health
Read the original article on Insider
Source:
7 science-backed benefits of vitamin B6 and how much you need each day
How Europe's €100-billion science fund will shape 7 years of research
---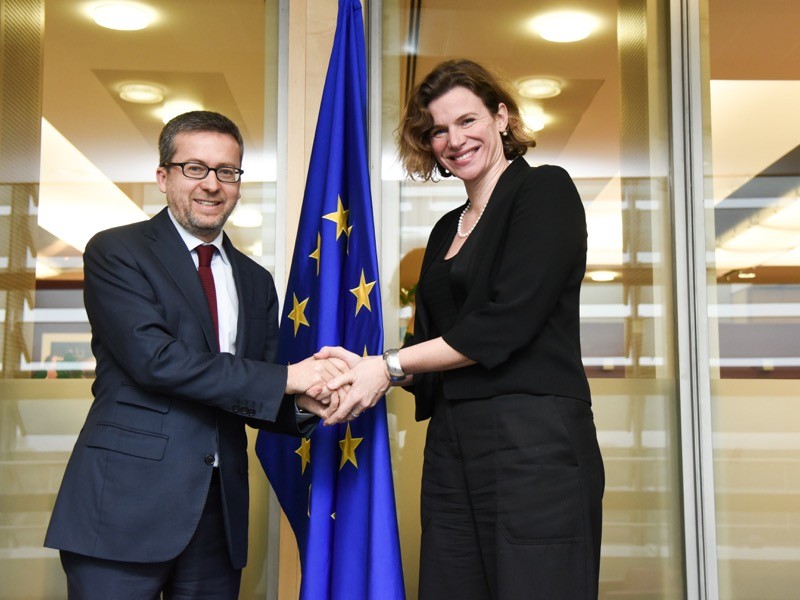 Horizon Europe, the world's largest multinational research and innovation programme, has issued its first call for grant applications.
Over the next seven years, the European Union's giant research-spending scheme will distribute a record €95.5 billion (US$116 billion) — including €5.4 billion from a COVID-19 recovery fund — to basic-science projects and cross-border research collaborations to be carried out by tens of thousands of researchers across 27 member states and more than a dozen other countries.
Horizon Europe is an evolution, rather than a reinvention, of the EU's previous research programmes. Like its predecessor Horizon 2020, which ran from 2014 to 2020, it is a mixed bag of funding schemes. It includes grants for individual scientists in all fields, and for large multinational collaborations covering grand societal challenges such as health, climate change and the digital revolution.
But Horizon Europe also includes new elements that reflect increasing attention to open science, equality, interdisciplinary research and practical applications. Here, Nature takes a look at some of the major changes.
Funding reserved for priority areas
The most anticipated change in Horizon Europe is the introduction of heavily financed, high-priority 'missions'. About €4.5 billion is earmarked for five areas: climate change; cancer; oceans and other bodies of water; smart cities; and soil and food.
In both scope and ambition, the missions go far beyond 'normal' research collaboration, and will incorporate tools and resources from flanking EU programmes such as the Common Agricultural Policy, which administers farming subsidies, and EU initiatives for developing infrastructure in poorer regions. The idea, first proposed by University College London economist Mariana Mazzucato, is to get researchers, businesses and governments to pool their skills towards a common goal, selected with input from the public.
The missions replace the European Flagships, sometimes-controversial €1-billion programmes that focused on particular areas of research, such as graphene or the human brain. The European Commission says that missions will mirror the spirit of the European Green Deal plan for a sustainable economy, Europe's Beating Cancer Plan or the United Nations Sustainable Development Goals. But many of the details remain to be determined. Over the next few months, mission boards appointed by the commission must lay out specific goals, research needs and indicators for measuring impact. First calls for proposals are expected by the end of this year.
A boost for basic research
Although much attention has been focused on the introduction of missions, they are only a relatively small part of the new programme, points out Torsten Fischer, head of the Brussels-based European liaison office of Germany's research organizations. Basic science will continue to be a centrepiece of European research. Between 2021 and 2027, the EU's premier funding agency for basic research, the European Research Council (ERC), will divide €16 billion among researchers at various career levels, an increase of more than 20% compared to Horizon 2020. Non-EU countries associated to Horizon Europe are expected to contribute an extra roughly €4 billion, depending on their level of participation. Associates include research-intensive nations such as Israel, Switzerland and the United Kingdom — which left the bloc at the beginning of 2021, but has signed a deal to allow its scientists, research organizations and companies to participate in Horizon Europe.
The ERC issued its first round of calls for starting grants under Horizon Europe on 25 February, and more are expected in the coming months. However, some types of grant have been delayed owing to a last-minute political agreement on the EU's multiyear budget in December. There will be no calls in 2021 for 'synergy' grants — those involving several teams of scientists. Calls for proof-of-concept grants to develop ideas generated in the course of ERC-funded research will also be delayed until 2022, says Waldemar Kütt, head of the ERC's administrative arm in Brussels.
Competition for ERC grants — which assign up to €2.5 million for 5 years to an individual investigator — has historically been tough, with an acceptance rate of around 12%, but the larger pot of money could mean that more scientists get funded.
Another important change is that researchers at international organizations headquartered in the European Union — such as the UN-chartered Abdus Salam International Centre for Theoretical Physics in Trieste, Italy — will now be able to apply for these grants. Around 80 such organizations were previously excluded from the scheme.
From lab to market
Horizon Europe will also aim to strengthen support for applied research with economic benefits. To this end, the European Commission has established the European Innovation Council (EIC), a new funding agency aimed at facilitating the transfer of inventions and research into goods and services.
Around €10 billion is earmarked for the EIC, to be divided between three types of grant. In an early 'pathfinder' phase, researchers can get support to develop ideas that have commercial potential. A second, 'fast track to innovation' phase will support the transition of promising results to market.
Finally, after market launch, entrepreneurs will be able to request EIC 'accelerator' support — including grants, loans and coaching services — to expand their businesses. (The accelerator programme was excluded from the UK–EU trade deal, so UK-based researchers will not be eligible.)
The idea is that recipients of ERC proof-of-concept grants will also be able to apply for EIC support. "Combining support from the two agencies is a wonderful opportunity to unlock commercial potential of basic science," says Fischer.
Opening up
Horizon Europe is expected to mandate that grant recipients publish their results according to the principles of open science.
In particular, immediate open-access publishing will become mandatory for all recipients of Horizon Europe research grants, including those from the ERC, says Kütt. Scientists will be able to choose whether to deposit a preprint of their work in a trusted repository or publish in an open-access journal — although grants will cover publishing costs only for pure open-access journals, not hybrid publications. Authors must also retain intellectual-property rights for their papers.
The commission will encourage EU-funded scientists to post their papers on Open Research Europe, an open-access platform that will formally launch in March. Works submitted on the platform, run by the London-based open-science publisher F1000 Research, will be posted immediately and cannot be published elsewhere. Articles will be subject to open peer review, meaning that the reviews and reviewers' names will be openly available, and the commission will cover publication costs.
Scientists will also need to make sure that any research data they generate are preserved and made available for reuse by others. Horizon Europe will require participants to submit a data-management plan, in line with the FAIR principles (findability, accessibility, interoperability and reusability), within six months of completing a research project, although exceptions may be granted where business secrets or sensitive personal data are involved. A partnership of research and data-service organizations across Europe is developing the European Open Science Cloud, a freely accessible virtual repository for data from all research that is publicly funded, whether by a participating state or by the EU.
The rules have raised some concerns. Meeting data-management requirements might be technically challenging, in particular for scientists and research organizations in poorer countries, says David Smith, director of Croatia's largest public research institute, the multidisciplinary Ruđer Bošković Institute in Zagreb.
"We are ready for open-access publishing, but we are not quite prepared for open data," he says. "Frankly speaking, the whole region is behind in that respect."
Equality
EU policymakers and the European Commission have agreed to spend more than 3% of Horizon Europe money — around €3 billion — on widening the participation of member states that tend to win fewer grants. The scheme will continue to use tried-and-tested tactics, such as teaming leading research institutions with ones that are less well-established, providing special grants for top researchers in countries that joined the EU only recently, and training researchers to improve their grant-writing and project-management skills.
However, it is unclear whether the headline Horizon Europe 'missions' will make fair allowance for scientists in poorer countries. "I do hope that the missions will not be geared for established players in rich countries," says Smith. "Smaller countries like Croatia have a lot to offer too. If implemented reasonably, the new concept has potential to narrow the East–West gap."
Organizations participating in Horizon Europe will also have to submit plans to improve gender equality — another change from Horizon 2020. Starting in 2022, all Horizon Europe-funded research institutions will be expected to aim for gender balance among their research staff, enact recruitment and anti-harassment policies, and start to offer gender-equality training opportunities.
Source:
How Europe's €100-billion science fund will shape 7 years of research